Home
Welcome to the Jewish-Islamic Dialogue Society of Washington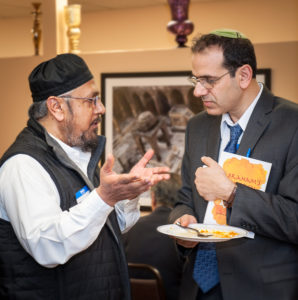 On January 19, 2020, beginning at 2:30 p.m., Temple Rodef Shalom (2100 Westmoreland St., Falls Church, VA) will host a JIDS dialogue entitled "Finding Flexiblity in our Religious Traditions — How Much is Too Much?"  Some people view progressive/liberal religion as an oxymoron, others as an antidote, and still others as a little bit of both.  In this session, four diverse panelists will share their perspectives on this issue.  The two Jewish panelists are congregational rabbis who come from very different backgrounds. Rabbi Uri Topolosky, the current President of the Washington Board of Rabbis, serves as the rabbi of Kehilat Pardes, a modern-Orthodox community in Aspen Hill, MD.  Rabbi Hannah Spiro, rabbi and song leader of the Hill Havurah Congregation in Capitol Hill, was ordained by the Reconstructionist Rabbinical College.  The two Muslim panelists are similarly diverse.  Imam Mohamed Abdullahi, the imam of the Muslim Community Center in Silver Spring, MD, was born into the Muslim tradition and memorized the entire Qur'an by the age of 11.  Dr. Margaret Johnson, sociologist and President of the BOard of the Ezher Bloom Mosque in Fairfax, VA, is a convert to Islam who has found inspiration from her faith as a woman and a feminist.  JIDS is very much looking forward to what these panelists have to say.  However, since JIDS is a dialogue society and not a speakers' bureau, it will reserve plenty of time for participation — not merely questions — from everyone in attendance.
JIDS is also a proud sponsor of the upcoming Sixth Annual Summit of Greater Washington Imams, Rabbis and Leadership Colleagues, that will be taking place on December 8, 2019.  This event is not open to the general public.
Finally, JIDS is co-sponsoring the Co-Exist Basketball League, which will bring together high school-aged boys and girls from the Washington, D.C. area to play basketball and engage in interfaith dialogue.  The opening event will be at 5:00 p.m. on Sunday, December 15, 2019, at the Bender JCC, 6125 Montrose Rd., Rockville, MD.  If you know of someone who enjoys dribbling, rebounding, talking and listening, spread the word!
Learn about JIDS programs via email by completing the information on the Contact Us page.