Welcome to the Jewish-Islamic Dialogue Society of Washington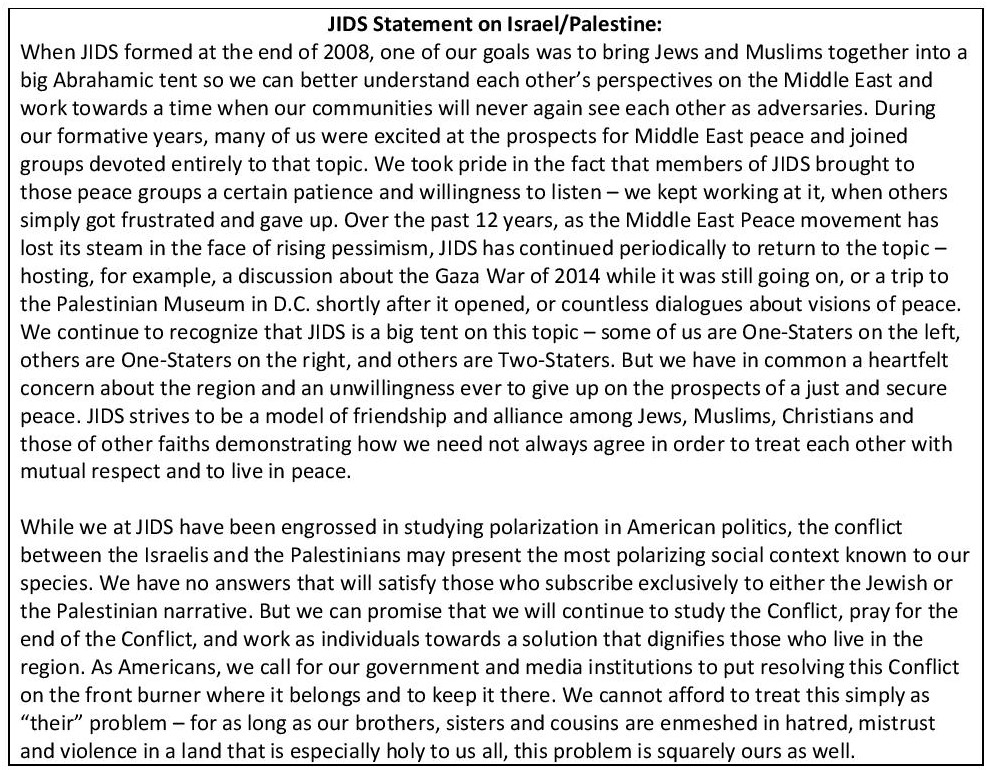 JIDS has suspended face-to-face dialogues in order to support global efforts to arrest the spread of the coronavirus.
In the meantime, we've been engaging in our own virtual dialogues via Zoom and supporting initiatives spearheaded by other organizations.
JIDS' next two sessions will be a continuation of our series on American political polarization.  This summer, on Thursday August 19th, beginning at 7:00 p.m., JIDS will be presenting an all Trump-voter panel.   Our panelists will be: Saba Ahmed, a Pakistani-American patent lawyer, who founded Republican Muslim Coalition to bring the voice of Conservative Muslims to American Politics; Steve Tannenbaum, operator of a local construction/development company, a high-ranked black belt who has trained soldiers and officials in Israel and the USA, and a member of the Greater Washington Jewish Sports Hall of Fame; Manga Anantatmula, president of a program management company, and the 2020 Republican candidate for U.S. Congress for Virginia's 11th District, which comprises most of Fairfax County; and Anna Libkhen, a computer scientist, an accomplished dancer, a world traveler, and a Trustee of JIDS.    Please join us for one or both sessions and, at the suitable times, consider sharing your own perspective on what you've been hearing and what we all can do to combat the toxicity of polarization without losing our souls in the process.
RSVP to the August 19th Zoom sessions at abdulmk6@gmail.com.
We hope you take advantage of other pages of the website to learn more about JIDS and its previous events.
Learn about JIDS programs via email by completing the information on the Contact Us page.