Welcome to the Jewish-Islamic Dialogue Society of Washington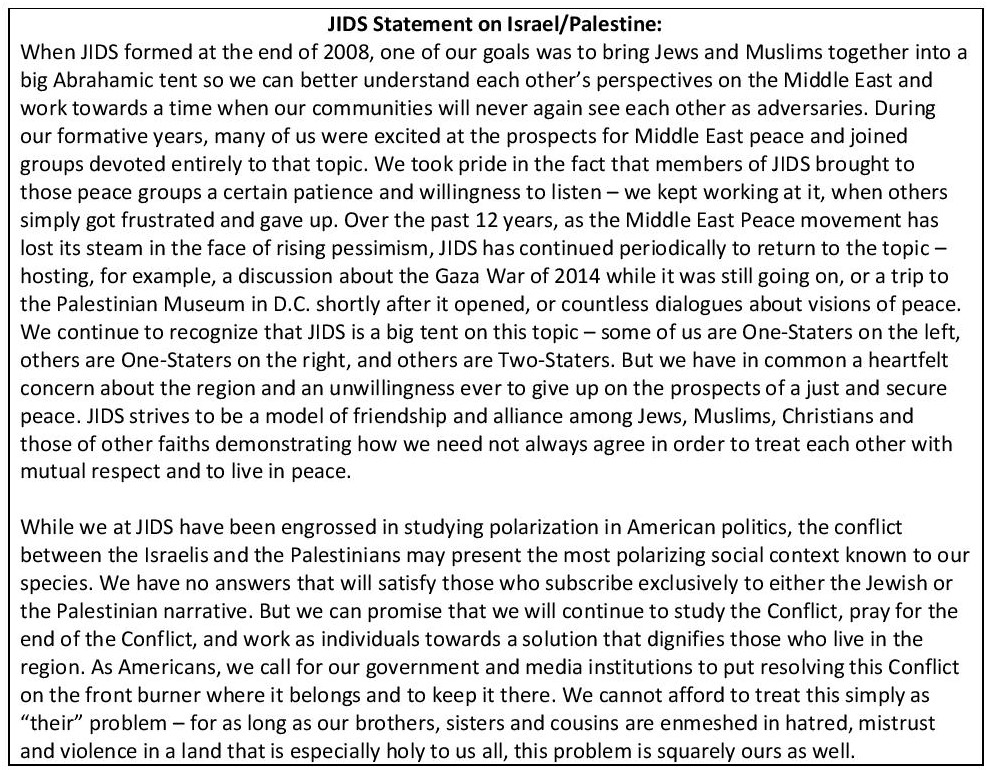 JIDS has suspended face-to-face dialogues in order to support global efforts to arrest the spread of the coronavirus.
In the meantime, we've been engaging in our own virtual dialogues via Zoom and supporting initiatives spearheaded by other organizations.
JIDS' next two sessions will be held on Thursday, November 18th and Tuesday, December 7th.  Both will begin at 7:00 p.m.     To RSVP to either or both events, email Abdul Khan at abdulmk6@gmail.com.
The November 18th session is entitled "God, the Faiths of Abraham and the Secular Challenge."  Some call the secular challenge the fundamental threat to the Abrahamic Faiths today.  But it could also be said the ability to accept and respond to that challenge is the fundamental opportunity that our faiths have been given.  JIDS will be tackling these issues head on. We will discuss the extent to which young and young-adult members of our communities have lost interest in key components of our faiths, what ways we have found successful in establishing re-connections, and how the secular challenge may affect Jewish and Muslim institutions going forward.  We are blessed to have as panelists two insightful minds: Rabbi Sid Schwarz, a social entrepreneur, non-profit CEO, author and former congregational rabbi, who now serves as a Senior Fellow of Hazon, the Jewish Lab for Sustainability; and Shaista Ahmed, an accomplished interfaith activist and public speaker who is affiliated with such organizations as Center DC and the Sisterhoood of Salaam Shalom.
The December 7th session is entitled "A Conversation with Amr Awadallah."   Amr Awadallah is a Muslim, Egyptian-born, Silicon Valley Executive who had been serving as V.P. for Developer Relations at Google Cloud before he released a video manifesto entitled "We Are One."  "I hated the Jewish people, all the Jewish people," the manifesto began.  That candid and moving work went on to discuss how he has evolved from an anti-Semite to a philo-Semite – indeed, a true friend of the Jewish people.   On Dec. 7th, JIDS will give you an opportunity to hear from and interact with this fascinating man.  First, he will be interviewed by a fellow Egyptian-born American, Prof. Sahar Khamis of the U. of Maryland.  Then Mr. Awadallah will be available to field questions and comments from the JIDS community.  If you are interested in advance of the session in watching the manifesto or other videos he has created during the aftermath of the controversy,  just google "Amr Awadallah video."
Please join us for one or both sessions and, at the suitable times, consider sharing your own perspective on what you've been hearing and what we all can do to combat the toxicity of polarization without losing our souls in the process.
We will be providing RSVP information for these session shortly.
We hope you take advantage of other pages of the website to learn more about JIDS and its previous events.
Learn about JIDS programs via email by completing the information on the Contact Us page.